Welcome and thank you for stopping by my website.
Please visit my blog as well. I posted new blog "1184. Love in the Sky"



How are you?




After I updated my computer, my major software for photography, graphic design and website didn't work any more.

I found alternatives for photography and graphic design but couldn't find a good software for my website.

Exhausted from computer work, I needed a break from them.




I rented a room in a water tower in five acre apple orchard in Sebastopol CA, in December and January.

It was an awesome experience.

The room is the second floor window view from three sides showed a fantastic expanse of sky.

At night I could see lights and colors of stars and the moon from my bed.

I experienced a variety of weather including a rainbow.

The clouds in the sunset light was especially marvelous.

The place is surrounded by vineyards, ranches, orchards and hills.

Once we got rain the ground became a fresh green carpet, how exciting it was.




At first I spent a lot of time meditating, and painted several paintings.




After that my world became to be a nice, soft, smooth and comfortable.




My solo show is scheduled in May at the Northcoast Artists Gallery.

After I came back to Sonoma, I painted several paintings. I love them all. I'm going to show them in the show.




I started to update my website at www.mariko-irie.com and www.marikoirie.com.

Hope you have time to visit them.




My solo show at the Northcoast Artists Gallery is:

Date: May 4 - 30

Reception: May 6, First Friday, 5 - 8pm

Location: Northcoast Artists Gallery 362 N, Main Street Fort Bragg CA 97437

Phone #: 707-964-8266

Website: www.northcoastartists.org




I hope to see you there.




Colorful wildflowers are along the road on Mendocino coast already.

We will find a lot of wildflowers on the Headlands in May,




Hope you can have a time to be in Nature and get positive energy from it.




Have a great spring.

Mariko



Since I started shipping my work, I was told USPS doesn't deliver big packages. So I sent them by UPS whose fees are so expensive. Just recently I discovered USPS does send big ones as well. I haven't yet found if they can ship as large as 30" x 40".

My shipping price includes insurance. For example, matt size 31" x 24" is $45 - $55.

Changing my website is time consuming, because I have to do it manually one by one.
I changed shipping fee of some items.
If you are interested in purchasing a big sized painting, e-mailing me is the best.
I love painting much more than working on a computer😊.

Another thing:
We can print all images 100% of original or bigger, thanks to technology.

In Sonoma we still have hot days. In the morning it's cool enough to play tennis, enjoying US open tennis tournament afterward.

Please visit my new work at http://www.mariko-irie.com/newest.html

Have wonderful enjoyable days,
Mariko
www.mariko-irie.com


I just published video Mariko | Mendocino 1 and "Light on Mendocino Coast".
I hope you enjoy it, if you like it, share with your family, friends and your favor people.
Be peaceful and healthy to enjoy a day.


I found a great printer to print my images on special coated watercolor paper.
Their printer prints 720dpi which is very fine print with archival ink which is lightfast for least 75 years.
They make beautiful prints. I'm very happy with them.

So I started selling large Giclee prints which is same size of my large painting.
Image size around 30" x 40" $450, 29" x 14" $380, image size around 21" x 14.5" $300.
Ship unframed, unmatted print. So shipping fee is much less expensive. Only $15 - $20 with insurance.

I'm working on shopping cart for the large Giclee print, but it takes time.
If you are interested in, e-mail me the number and title of the image to mariko@mariko-irie.com, I will e-mail you back with the link which you may purchase on line.
Mariko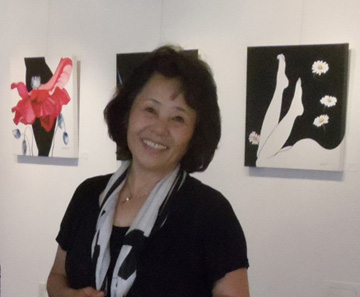 MARIKO IRIE



Mariko Irie, a lifelong painter, was born and raised in Tokyo. She
received her BFA at Musashino Art University in Tokyo, 1973. Mariko moved
to Mendocino in 1982 to pursue her painting. She studied printmaking
with Robert Rhodes and American Realism painting with Bill Martin at
College of the Redwoods in Fort Bragg.

She has been in numerous solo and group shows, receiving honors
including: having been selected for "California Contemporary Art Collection
2017-2018" at the California State Capital; top prize of "Outstanding
Visual Artists" at Museum of the Living Artist in San Diego, 2011; having paintings selected for the cover of the Mendocino Art Center's magazine "Mencodino Arts" winter issue, 2008; chosen for the posters of "Art in the Garden", 2008, Mendocino Music Festival, 2004, Winesong, 1995. Mariko's paintings are widely represented in collections both public and private throughout the United States, Canada, England, Germany and Japan.

Mariko has been seeking eternal peace and beauty. She hopes that the silence of her painting gives room for contemplation.
She has been fascinated by painting watercolors for thirty years
using a wet on wet technique to bring out the watercolor's uniqueness
and charm, adding layers of glazing to create rich paintings. She
creates these paintings in a way that retains a distinctive look
associated with the medium. Her paintings are rich in the traditional style and have a wonderful contemporary feel.

Mariko Irie is represented at Northcoast Artists Gallery in Fort Bragg, Highlight Gallery in Mendocino, and Gallery at Glendeven Inn, Little River, California.

1073. Whirlpool by Cliff



345. A Pear

233.Woman's back
764. Dancing with the Moon#4